Apple Mail 3/3.5: Configuration Guide
You can use Mail, the Email client included with Mac OS X, with your MSLN email account. Open Mail, from the "Mail" menu select "Preferences..." you should see your preferences panel appear. Select "Accounts" from the panel: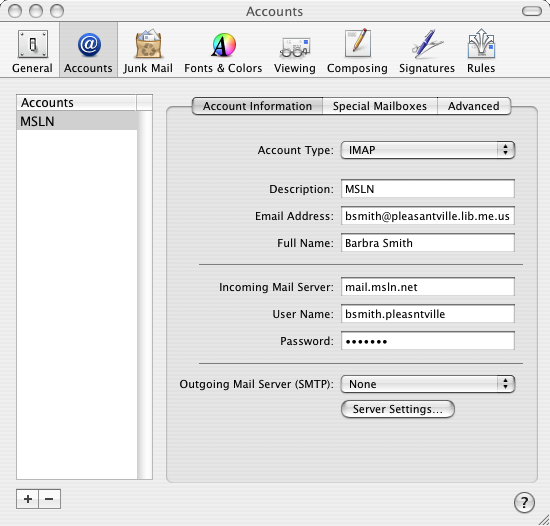 Click on the Add (+) button below the accounts pane. Under Account Information you will enter your new account settings.
You should set the account type as "IMAP" and the Incoming Mail Server as mail.msln.net. For your Full Name you should enter your name as you wish others to see it, be sure to use proper capitalization. Enter the email address and username for the account.
Next, under Outgoing Mail Server, select "Add Server..." from the list. An SMTP Server Options panel will appear: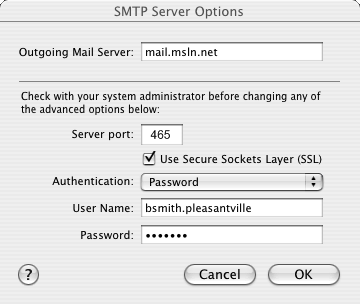 For your outgoing mail server enter "mail.msln.net". Place a check in "Use Secure Sockets Layer (SSL)" and set "Authentication" to "Password" and enter in your MSLN mail username and password again, then click "OK".
Next select the "Advanced" pane in the Accounts window: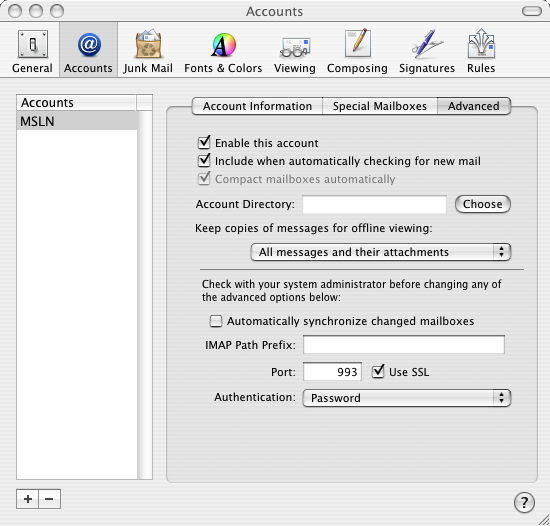 Add a check in the "Use SSL" checkbox.
Close the Preferences window. You will be prompted to save the changes, click "Save":

Mail is now configured to work with your MSLN mail account: